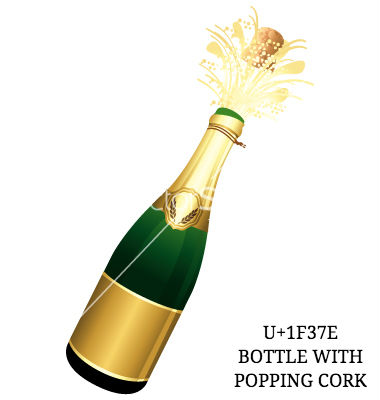 Version 8.0 of the Unicode Standard is now available. It includes 41 new emoji characters (including five modifiers for diversity), 5,771 new ideographs for Chinese, Japanese, and Korean, the new Georgian lari currency symbol, and 86 lowercase Cherokee syllables. It also adds letters to existing scripts to support Arwi (the Tamil language written in the Arabic script), the Ik language in Uganda, Kulango in the Côte d'Ivoire, and other languages of Africa. In total, this version adds 7,716 new characters and six new scripts.
The first version of
Unicode Technical Report #51, Unicode Emoji
is being released at the same time. That document describes the
new emoji characters
. It provides design guidelines and data for improving emoji interoperability across platforms, gives background information about emoji symbols, and describes how they are selected for inclusion in the Unicode Standard. The data is used to support emoji characters in implementations, specifying which symbols are commonly displayed as emoji, how the new skin-tone modifiers work, and how composite emoji can be formed with joiners. The Unicode website now supplies
charts of emoji characters
, showing vendor variations and providing other useful information.
The 41 new emoji in Unicode 8.0 include the following:
| | |
| --- | --- |
| | |
| | NERD FACE, FACE WITH ROLLING EYES, ROBOT FACE |
| | HOT DOG, TACO, CHEESE WEDGE, POPCORN |
| | CRICKET BAT AND BALL, VOLLEYBALL, BOW AND ARROW |
| | UNICORN FACE, LION FACE, CRAB, SCORPION |
| | MOSQUE, SYNAGOGUE, PRAYER BEADS |
(For the full list, including images, see
emoji additions for Unicode 8.0
.)
Phones and computers often need operating system updates to support new emoji, which may take some time. It is also now clear which existing characters, such as the often requested SHOPPING BAGS, can be used as emoji. Once phones and computers support these characters, people will be able to see colorful images such as the BOTTLE WITH POPPING CORK above.
Three other important Unicode specifications are updated for Version 8.0:
Some of the changes in Version 8.0 and associated Unicode technical standards may require modifications in implementations. For more information, see
Unicode 8.0 Migration
and the migration sections of UTS #10, UTS #39, and UTS #46. For full details on Version 8.0, see
Unicode 8.0
.