The Unicode Consortium is pleased to announce that SMU Guildhall is now a gold sponsor for: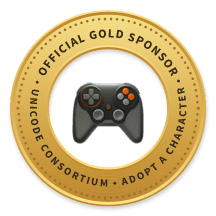 SMU Guildhall's sponsorship directly funds the work of the Unicode Consortium in enabling modern software and computing systems to support the widest range of human languages. There are approximately 7,000 living human languages. Fewer than 100 of these languages are well-supported on computers, mobile phones, and other devices. AAC donations are used to improve support for digitally disadvantaged languages, and to help preserve the world's linguistic heritage.
SMU Guildhall is the #1 graduate school for video game design, the first in the world to offer a master's degree in interactive technology, and the only program with specializations in all four cornerstones of game development: Art, Design, Programming, and Production. Their game industry faculty turn a passion for gaming into a viable and fulfilling career by mentoring students through the two year program and 3+ team game projects. Over 700 Guildhall alumni have worked at over 250 game studios globally.

— SMU Guildhall
The Unicode Consortium thanks SMU Guildhall for their support!