The Unicode Consortium is pleased to announce the new design selected for the cover of the forthcoming print-on-demand publication of The Unicode Standard, Version 14.0. The Unicode Consortium issued an open call for artists and designers to submit cover design proposals. All submitted designs were reviewed by an independent panel.
The selected cover artwork for Version 14.0 is an original design by Sophia Tai, an MA student in Typeface Design at the University of Reading. Her cover art represents type in boxes, which shares a visual language with the arrangement of metal type, as well as the Unicode code charts. She selected a global mix of characters to present a variety of writing systems, using neon colors to create liveliness. The neutral background represents a sense of being down to earth, as well as the longevity and preservation of writing systems.
Two runner-up designs were also selected. One is a contemporary design by Beatriz de Paula Mattos, a graphic design student at the University of Vale do Itajaí, Brazil. The other runner-up design was created by Jesús Barrientos Mora, a professor with a degree in Type Design, who also leads the Talavera Type Workshop foundry in Puebla, Mexico.
Beatriz de Paula Mattos:
Jesús Barrientos Mora: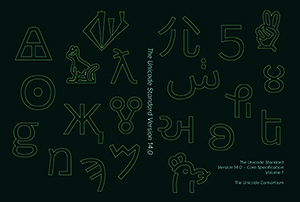 ---
Over 144,000 characters are available for adoption to help the Unicode Consortium's work on digitally disadvantaged languages